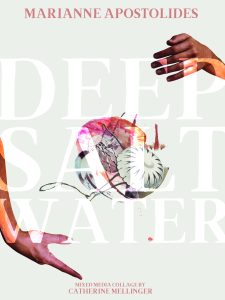 Deep Salt Water is an intimate memoir about abortion, expressed through the language and imagery of the ocean. By gravitating around a central love story—the reconnection of a couple who'd had an abortion twenty years earlier—the book draws its readers, inexorably, into global themes of loss, time, and creation.
The book is organized as 37 separate pieces, divided into three sections—a structure that mirrors the number of weeks in a full-term pregnancy. Each 'trimester' of the book explores the story of my lover and me: our relationship and unwanted pregnancy; the abortion itself; our separation and subsequent reconnection seventeen years later—a rekindling of love which stimulates my effort to come to terms with the abortion and its consequences.
Moving from a place of intense intimacy to an outward focus that engages with the broader world, Deep Salt Water discusses abortion in all its complexity, rejecting polarizing rhetoric in favour of the unfathomable truths that women hold in their bodies.
Deep Salt Water is available for purchase at your local bookstore, online, or directly from the publisher.
Praise for Deep Salt Water:
"Deep Salt Water is intimate and sensual, tidal and saline—how can a book be tidal and saline? These words make sense within the environment of the book. Apostolides's language is not of pristine nature but of the anthropocene, our current geologic age of bleached coral and oceans choking on plastics. In light of man-made climate catastrophe, learning this language takes on added urgency."
—Jade Colbert, The Globe and Mail
"The most difficult art upholds political principles while questioning the narratives that prop them up. That is exactly what Apostolides does in Deep Salt Water, and the only word I can think to describe it is brave."
—André Forget, Canadian Notes & Queries
"The inimitable beauty in Marianne Apostolides's memoir, Deep Salt Water (see recent interview with her here), rises out of its commitment to the metaphor. An elegy to our dying ocean and the aquatic life tethered to it, Deep Salt Water also examines the author's emotional entanglement with a young lover, the abortion that comes after it, and the seventeen years in-between their first encounter and their last. Though it touches on both topics rather poignantly, Deep Salt Water is neither political nor didactic; rather, it is a text that transcends genre and uses the ocean and the life that exists within it as a lexicon for the necessary act of forgiveness."
—María Isabel Alvarez, Colorado Review
"Among myriad similes, Apostolides compares her female body to an ocean from which the life of the fetus emerges, and the sketches by Catherine Mellinger throughout the book portray an unbreakable connection between the female body and the environment."
—Saghar Najafi, Canadian Literature 
"Somehow Apostolides' attempt to tackle infinite expanse succeeds by way of commingling of sand, seaweed, and scientific fact, reads like a breath of air, or a breeze from an incoming tide. […] We are reminded of the powerful echoes and impacts of a decision made 17 years prior, as though it were an eruptive volcano, or perhaps a crashing tsunami. The cause is unknown and unexpected, but the effect is powerful and lasting."
—Megan Hamilton, Broken Pencil, Fall 2017
"Whether coming to terms with the abortion she had years ago or recognizing the loss we've already witnessed in our oceans and the loss that is still to come, Apostolides acknowledges that grief is an essential part of the human experience when what you have loved is gone. Yet the love that is contained within her words—of the seas, of her unborn child, of the man she connects with so many years later—is the kind of love that is oceans deep."
—Jenna Gersie, The Goose: A Journal of Arts, Environment and Culture in Canada
Deep Salt Water was listed among the 'Most Anticipated Books of 2017' by the Toronto Star and Room magazine; it was also featured in the Spring Preview Issue of Quill & Quire.
Interviews:
For further information on the book's creation, you can read some interviews here.