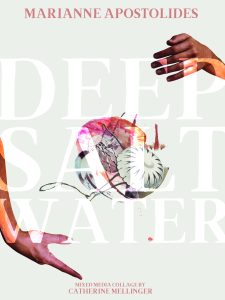 Deep Salt Water is an intimate memoir about abortion, expressed through the language and imagery of the ocean. By gravitating around a central love story—the reconnection of a couple who'd had an abortion twenty years earlier—the book draws its readers, inexorably, into global themes of loss, time, and creation.
The book is organized as 37 separate pieces, divided into three sections—a structure that mirrors the number of weeks in a full-term pregnancy. Each 'trimester' of the book explores the story of my lover and me: our relationship and unwanted pregnancy; the abortion itself; our separation and subsequent reconnection seventeen years later—a rekindling of love which stimulates my effort to come to terms with the abortion and its consequences.
Moving from a place of intense intimacy to an outward focus that engages with the broader world, Deep Salt Water discusses abortion in all its complexity, rejecting polarizing rhetoric in favour of the unfathomable truths that women hold in their bodies.
Praise for Deep Salt Water:
"Deep Salt Water is intimate and sensual, tidal and saline."
—Jade Colbert, The Globe & Mail
Deep Salt Water was listed among the 'Most Anticipated Books of 2017' by the Toronto Star and Room magazine; it was also featured in the Spring Preview Issue of Quill & Quire.
Interviews:
Whether you're visually, aurally, or textually inclined, this section offers insight into the book's creation, themes, and aesthetics.
The collages included in the book—nine in total, all of them as gorgeous as the one on the cover—are the work of collage artist Catherine Mellinger.