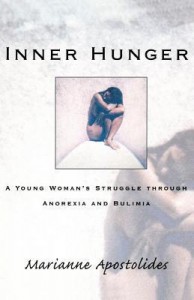 A painful, powerful, and ultimately enriching account of what it feels like to be young, confused, and controlled by food.
Adolescence is a time full of pitfalls for teenage girls. Many escape relatively unscathed; some—unable to cope successfully with the pressures exerted by family, school, and the media—develop eating disorders. Marianne Apostolides was one of those girls. She became anorexic at the age of fourteen and struggled for the next ten years with anorexia, binge eating, and bulimia.
In this courageous work, Apostolides recreates the years in which she felt she could control her life only by controlling her diet. Insecure, unable to communicate with her parents, and driven to achieve at school, she initially found relief in the structure of calorie-counting and schedules. When the constant dieting became too much for her body to handle, she began to binge, and then to binge and purge. Her world defined by food, Apostolides would battle throughout high school, college, and adulthood to confront the deeper issues that compelled her to hurt herself again and again.
This is a book about a young woman who did not know how to cope with her feelings, and who, through therapy, was able to find the road to recovery at last. Absorbing and honest, hers is an important story of anguish, frustration, and, ultimately, triumph.
Praise for Inner Hunger:
"Inner Hunger is a courageous account of its author's decade-long struggle, beginning at age 14, with anorexia, binge eating, and bulimia. This is a frighteningly honest and painful story, a story that will help readers understand the experience of an eating disorder."
—Cheryl Archer, CM Magazine
"I would highly recommend this book both to professionals as well as to ED [eating disorder] patients themselves. I know this book will give a jump-start of understanding into the inner workings of the mind of an eating disorder victim."
—Harold A. Frost, PhD, Center for Change
"Persuasive in its realism, this brief journal attempts to be a guidebook for the girls and women — and their friends, relatives, and therapists — who suffer from eating disorders…. [Inner Hunger is a] notably straightforward recounting — sans melodrama — of the pain, frustration, and feelings of helplessness experienced by Apostolides and her fellow travelers."
—Kirkus Reviews