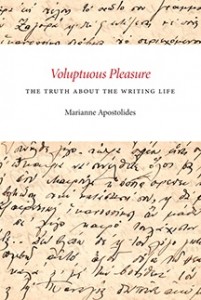 "It is the misfortune (but also perhaps the voluptuous pleasure) of language not to be able to authenticate itself… language is, by nature, fictional."
– Roland Barthes, Camera Lucida
Voluptuous Pleasure: The Truth about the Writing Life is a collection of non-fiction whose title states that non-fiction does not exist. These stories, by acclaimed author Marianne Apostolides, are sensuous and smart, ambiguous but incisive in their truths. Voluptuous Pleasure will take you inside brothels and bedrooms, kitchens and consciousness; it will seduce you along the limits of non-fiction, making you question the veracity of anything you've ever read – or even experienced.
Listed among the "Top 100 Books of 2012" by The Globe & Mail.  
Praise for Voluptuous Pleasure:
"Apostolides is a kind of fan dancer among thematic imponderables: the realms of memory, longing, fear, loss, redemption."
— Charles Wilkins, The Globe & Mail.
"In vivid language, Voluptuous Pleasure examines tensions between the exploration of personal memories and the construction of engaging narratives."
— Quill & Quire
"Apostolides is fearless in revealing herself and masterful in ability."
— Corey Redekop, Shelf Monkey
"Apostolides' prose delights and takes pleasure in the slipperiness of language itself….  Blending the autobiographical with the archival, the fictional with the factual, Voluptuous Pleasure is a powerful call for language to be both questioned and celebrated, dispensed with and relied upon."
—  Lucia Lorenzi, Canadian Literature
Interviews:
These interviews all discuss the concept of 'creative non-fiction,' as well as my own writing process.  Have a look, and a listen, here.